Conectando España
---
'Conectando España' is the first 'branded content' programme to be broadcasted on Spanish Television's La1. In each programme, two small villages in our country are visited to show how they can offer an alternative to urban life, especially at a time when it is possible to jump all distances at the click of a button.
'Conectando España' is a TVE program produced by Medina Media with the cultural sponsorship of Vodafone, to show how they can be an alternative to urban life. The space discovers lost paradises hidden among the 8,100 villages in Spain and the role that new technologies are playing in the repopulation of the rural environment. 'Conectando España' tells the story of those who have left everything to find peace or a better place for their children, of those who have decided not to leave, to remain united to their roots or of those who have devised new ways of working and having fun and feel fully connected to the world.
Recorded both at ground level and from the sky, with high definition aerial images captured by a state-of-the-art helicopter, it shows corners of our geography unknown from this perspective. Connecting Spain, a program about human networks and communication networks, has an important presence on the Internet. The broadcast, simultaneous in La 1 and RTVE.ES, is commented in the web and in social networks with the hashtag #conectando.
AWARDS
'Conectando España' reached bronze in the 'Branded Content & Entertainment' category at the European Advertising Creativity Festival, 'Eurobest 2012', held in Lisbon. Almost 5,000 entries from all over Europe were submitted to this festival and 'Conectando España' was the only Spanish programme to enter the finalists list in the new 'Branded Content' category of 'Eurobest 2012', which was celebrating its 25th edition that year.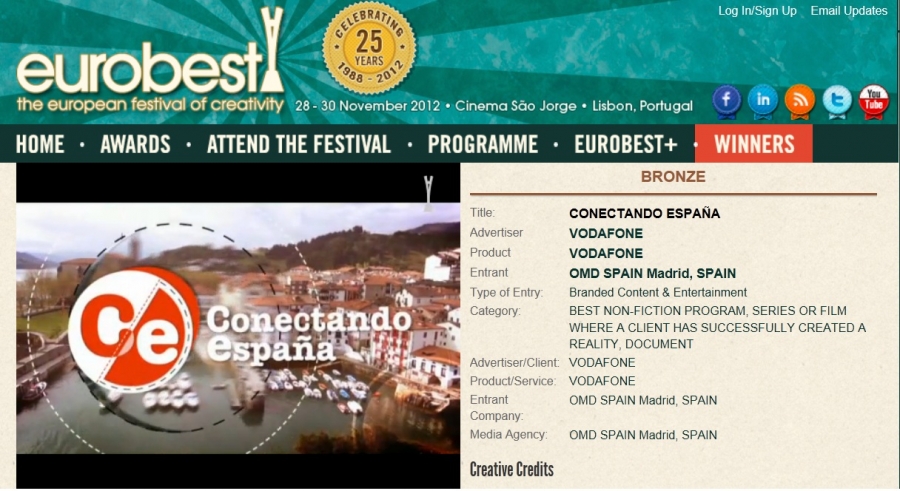 The Spanish candidacy was presented by OMD, the advertising agency of Vodafone, cultural sponsor of the series of 13 one-hour episodes broadcast by TVE between May and October, in the late-night of La 1 and with remissions on weekends.
Another award that has been given to the programme is the AUTELSI Award 2013. This award is given by the Spanish Association of Telecommunications and Information Society Users (AUTELSI) for its innovation and excellence in the dissemination and diffusion of Information and Communication Technology in our country. This award values the work of 'Conectando España' for the integration of new technologies in the rural environment.
On the RTVE website you can see all the programmes online: http://www.rtve.es/television/conectando-espana/